Metanoia, Inc. brings focus on problems of strategic significance. The company works closely with its clients to define a precise problem statement, devise an optimum solution (for the case considered), and accelerate development/deployment of the chosen solution. Its solutions are characterized by a balance between business value and development/deployment risk. Metanoia, Inc.'s domain expertise and its product development and architecture experience, combined with its critical systems thinking, enable the company to contribute across a wide spectrum of project areas. Below are some of Metanoia, Inc.'s specific offerings for both vendors and service providers.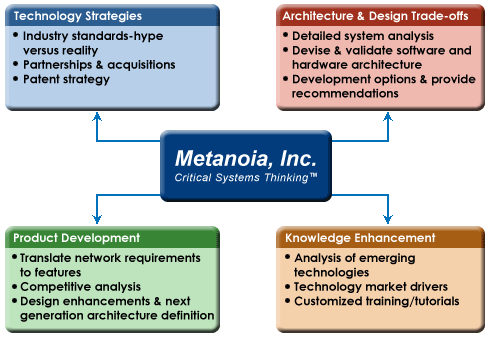 To learn moreabout partnering with Metanoia, Inc. including:
  How we help clients increase profits and productivity.
  Our work with service providers and chip/system/software vendors.
  Representative carrier-focused and vendor-focused projects & activities.
  Accolades from our Clients and Partners.
Please download our Presentation
"7 Keys to Accelerate Profits by Partnering with Metanoia, Inc.: A Strategic Ally."
Our Client Accolades
We recognize that our clients/partners and what they have said about us is the best proof of our skills, expertise, experience, credentials, and credibility. For a small representative sample of the accolades we've received please click:
Metanoia Inc. Client Accolades